If your handset reads "SIM locked", you'll have to unlock it with a PUK (Personal Unlocking Key) code. A PUK code is an 8-digit code unique to your SIM card that unlocks your SIM card if you can't remember your PIN, or enter it 3 times incorrectly. It's used to prevent unauthorised use of your account, and keep your SIM card details safe.
Getting your PUK
Your PUK code is located on the back of your Kogan Mobile SIM pack (see below).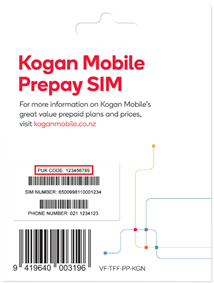 If you no longer have your packaging, you can contact the Kogan Mobile Customer Service team by clicking here with the following details:
Full Name
Email
Mobile number
Length & Data of your plan
Add-ons purchased (only if required)
Once we have verified your details, we will provide your PUK code to you.
Entering your PUK
Enter your PUK into your phone when prompted. You will be asked to enter a new PIN code, repeat it to confirm. Your PIN code needs to be between 4 and 8 digits long.
If you are not prompted to enter your PUK on your phone, you can enter your PUK with this sequence:
**05 * [PUK] * [NEW PIN] * [NEW PIN] #
Important info:
You've got 10 attempts to enter your PUK correctly, so be careful.
After 10 wrong attempts, your SIM card will be permanently blocked. You'll need to get a replacement SIM card to continue using your mobile number.